Rachel Lane CTDI
trainer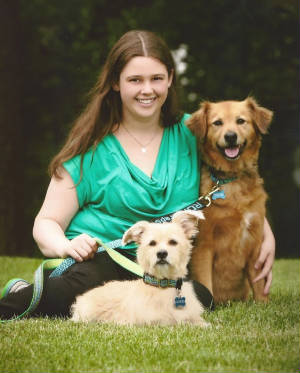 Rachel's goal when training tricks is to
help you have the most fun with your dog that you can have!
Her goal is for you and your dog to build a forever bond and have
fun in the process.
Tricks are her
favorite thing to do with the dogs because it is so exciting and rewardi
ng when you see the dogs "get it." Rachel also loves the way that tricks can give a dog a positive outlet for their energy while at the same time bringing some positivity into the dog/owner relationship. I
t gives dogs and their owners something
to look forward to every day.
Rachel has
been working with dogs
professionally
for three yea
rs and has loved dogs her whole life. She and her scruffy little mutt from NYCACC have earned their advanced trick title and they are superstars in agility class. Even though she is
a student at The City College of New York pursuing a double major in Studio Art an
d Advertising/Public Relations Rachel is
more
interested
in becoming a dog trai
ner. It really is what brings her
joy every day.
Rachel is
currently
a Certified Trick Dog Instructor
and
actively
working towards her
Certified Professional Dog Trainer certification knowledge and skills accessed.